---
Our Brand
The goal of Stone Stash Coffee is to make delicious coffee. Period. We are our biggest critics! If we don't absolutely love our product, we will not sell it. Creating a consistent, smooth and rich cup of coffee starts with the growers. Our raw, green beans are sourced from the best producers in the world, where sustainable and organic practices are maintained. Our undeviating air roasting completes the process to ensure you will get that quality coffee direct to your home! We also provide our customers with a FULL pound of beans every time AND we offer FREE local delivery or scheduled pickup. Meet the owners here!
You Crave. We Roast.
We sort of love coffee. Maybe a bit too much actually. My husband started roasting coffee as a hobby. Once he realized how much more delicious his morning brew was by using freshly roasted beans, he couldn't stop roasting. We started with a popcorn maker. That's right. An old school air popping machine.
We soon switched over to a consumer grade air roaster, and have since been roasting on a commercial grade roaster. Through all of the stages of our roasting, we have kept one common theme – air roasting. We find that air roasting beans produces a smoother, less acidic and much less bitter cup of coffee.
We also strive to ethically source our beans and ensure the quality is of the highest standards.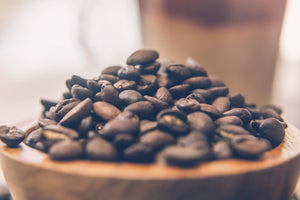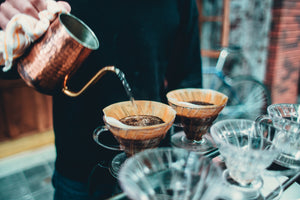 WHY WHOLE BEAN?
Is whole bean coffee really better than ground coffee beans? Ummmm YES! Ok, so that sounds a bit snobbish, I get it. But, there are so many reasons why you should buy whole bean coffee vs. ground coffee. Let me break it down for you…
Longevity
Whole beans last longer than ground. Period. Peak freshness for roasted whole coffee beans is one to two weeks after roast. Most coffees (ground or whole) you will find at your local supermarket are already stale! Most of the coffee sold in grocery stores is pre-ground. And pre-ground coffee loses most of its natural flavor in just 20-30 minutes. Yup – that's right! Coffee grounds are so small that it takes very little time for oxygen to soak into the coffee and cause it to start the decaying process. The natural sugars, aromas, and acids turn into a harsh bitterness.
Smell and Taste
When we roast our raw beans, they are filled with CO2. Some of that carbon dioxide is released as the beans cool, but keeping them whole allows much of that gas to remain intact. This CO2 releases oils and soluble flavors into the air during the brewing process, creating all those amazing aromas that we love so much. Since much of what we taste is dependent by our sense of smell, the aromatics are very important when it comes to flavor quality.
Healthy Benefits
Coffee is rich in antioxidants and flavor. When you break down that bean, you will lose those amazing antioxidants and rich flavors much more quickly.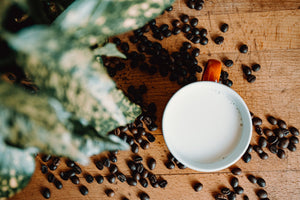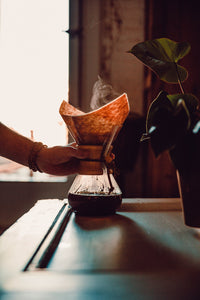 Grinding
When you grind your own coffee, YOU dictate your grind size for YOUR coffee. There are so many different ways to brew your coffee - and grind size does matter.
Turkish Coffee - Extra Fine
Espresso - Extra Fine
Moka Pot - Fine to Extra Fine
Auto Drip (regular coffee pot) - Fine (pre-ground works here)
Pour Over - Medium to Course
Aeropress - Medium to Course
French Press - Coarse
Cold Brew - Coarse
Don't own a grinder? We've researched for you and found the best bang for your buck:
Cuisinart Burr Grinder
Need Coffee for a Group or Event?
Contact us directly to schedule a drop-off of freshly brewed coffee for a private event.
Contact Us